Matthew Zhang
- Founder and President -
Matthew Zhang is a sophomore at Livingston High School. There, he is a captain of the Debate team, class representative in Student Government, and member of the FBLA. Matthew avidly participates in community service, consistently volunteering for his Church and school, independent service events, and large non-profit organizations. He is also a volunteer instructor at multiple debate camps that teach underprivileged kids public speaking and debate skills. His favorite hobbies include playing basketball, reading, and creative writing.
Harris Rosenthal
- Chairman -
Harris Rosenthal is an enthusiastic student with a love for learning and technology. Harris serves as the president of the Friendship Circle, an organization that helps kids with disabilities or special needs. Additionally, he has been a passionate investor since age 8 who regularly attends the Berkshire Hathaway Annual Meeting. In spare time, Harris enjoys world travel and playing basketball. Harris believes in the philosophy, "The harder you work the luckier you get." 
Anuvik Das
- Service Coordination Executive -
Anuvik Das is a sophomore at Livingston High School, and participates in basketball, Lincoln-Douglas debate, chorus, mock trial, and community service at various events and organizations. He has lots of experience volunteering for the West Essex YMCA, The Wounded Warrior Project, and the Livingston Public Library. Anuvik enjoys playing sports and exercising. His favorite subject in school is any course that involves math. Anuvik is extremely optimistic about making a difference for the community with the LYOHS! 
Kishan Bava
- Chief Financial Officer -
Kishan Bava is a sophomore at Livingston High School. He is a member of the FBLA and high school math team. Kishan has participated in many town clean-ups, volunteered for local non-profit organizations, and helped distribute food to impoverished children. Kishan has always had a deep interest in mathematics and has gone on to win many awards at numerous competitions. He gives back to his community by sharing his experiences and knowledge to younger kids in his town who also have an interest in math. During his free time, Kishan enjoys playing soccer, basketball, and reading.
Rishab Bamzai
- Creativity Director -
Rishab Bamzai is a sophomore at Livingston High School. At school, he participates in baseball, speech and debate, and coding. Outside of school, Rishab enjoys playing all kinds of sports and runs a YouTube channel where he creates and posts his own music.
Raghav Ladda
- Chief Operating Officer -
Raghav Ladda is a sophomore at Livingston High School. Raghav has done community service his entire life – participating in food drives and fundraisers, along with his volunteer work at the Livingston Public Library where he would read to young children still developing their comprehension skills. Raghav's hobbies include watching and playing sports, biking, playing the guitar, and reading.
Adarsh Patel
- Chief Technology Officer -
Adarsh Patel is a sophomore at Livingston High School. Adarsh has been volunteering at B.A.P.S. non-profit charities, a youth development center, for over 10 years. At his school, he is a member of the FBLA and HOSA. Adarsh is also a member of the 3-year Science Research Program at LHS. Adarsh is an amazing content creator, and is skilled in design applications such as Adobe Premiere, Photoshop, Lightroom, etc.
Zachary Feldman
- Secretary -
Zachary Feldman is a sophomore at Livingston High School. Zach is a member of the FBLA, and a starter on the boys varsity soccer team. Zach's spends time volunteering at Friendship Circle and offering his time to children at his temple. In addition, Zach has recently become a member of Talenthood, a social media app that raises money for three local charities through soccer practice lessons to local children. Zach  also spends his time playing for his soccer club STA, writing, and spending time with family and friends.
Nidhi Gosalia
- Webmaster -
Nidhi Gosalia is a sophomore at Livingston High School. She has a strong passion for community service, spending her free time volunteering to teach computer programming to students in and outside of the community. At school, Nidhi is a class representative in Student Government, Vice President of Coding Club, and member of the Speech, Science Olympiad, Ocean Science Bowl, Science Bowl, and Varsity fencing teams. In her free time she enjoys painting and attending hackathons.
Dylan Perlstein is a sophomore at Livingston High School. At school, Dylan participates in FBLA and volunteers as a member of Key Club. He was also a valuable member of the Livingston Basketball program, where he played for the Junior Varsity and Varsity teams as a freshman. Dylan loves community service, as he has volunteered as a youth basketball coach for many years. He especially looks forward to working for the LYOHS as a board member! 
Neal Hejib is a sophomore at Livingston High School. He participates in many extracurricular activities such as Public Forum debate, the robotics team, and the soccer team. Neal has lots of community service experience from volunteering at Sanskriti in Livingston, New Jersey. Some of the hobbies that he is passionate about are sports and coding. His favorite subject in school is math and he is looking forward to helping the community with LYOHS.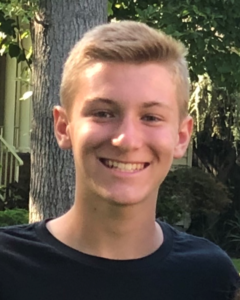 Jake Fersko is a sophomore at Livingston High School. There, he is a member of the FBLA community service committee, a Key Club member, and plays on the basketball and soccer teams. Jake has tried to help the community and the world starting at a young age. He has donated money to charities, assisted the organization of many different fundraisers, and helped kids with disabilities. In his free time, Jake loves to play sports and research all sorts of things.  He loves to give back to the community, since giving to others and seeing their joy makes him a happier person in turn!
Isaiah Chang is a sophomore at Livingston High School. There, he has served as a class representative in the Student Government and is a member of the Model United Nations club. Isaiah plays basketball as a winter sport and lacrosse as a spring sport. His favorite subject is English. Isaiah serves at a homeless shelter from time to time in Hackensack, NJ often with his church. He enjoys playing video games and spending time with his family.
Helen Cheng is a sophomore at Livingston High school. She actively volunteers at the Community FoodBank of NJ and is the secretary for the Teen Leadership Council there. She also was a volunteer soccer coach at a summer camp for kids and now hosts free Zoom and live soccer sessions for little kids in her town. She plays club soccer and enjoys playing basketball, baking, running, and painting.